5 Best Uses Of Smart Home Kits
5 Best Uses Of Smart Home Kits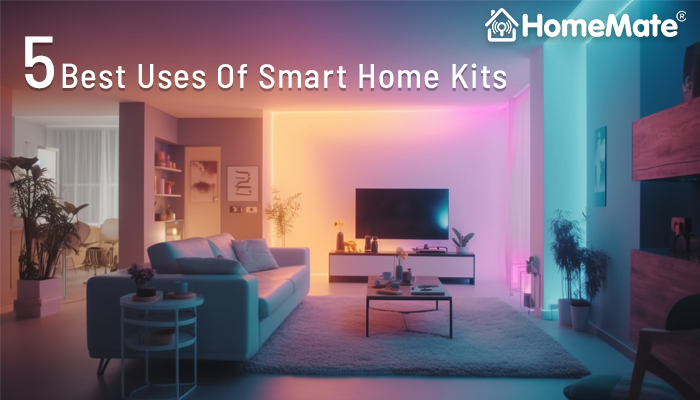 Smart home technology has brought a huge change in our lives by integrating automation and connectivity into our daily routines. With the installation of home automation devices, our lives have become easier and more comfortable. Smart Home Kits, comprised of devices and systems, offer numerous benefits which help in making our lives easier, safer and more efficient. HomeMate is one of the renowned brands for Smart Home Automation. With over years of research and development, HomeMate has numerous devices like Smart IR, Smart Retrofit Switches, Smart IR Blaster, Smart Switches, smart lights, smart security systems, and much more to make your place a comfortable living space.  
What is Smart Home Kit?
A Smart Home Kit is a collection of interconnected devices and technologies designed to enhance the automation, convenience, and security of residential space. It typically includes a hub or central control system that communicates with various smart devices such as thermostats, lighting systems, security cameras, door locks and appliances. These devices can be controlled remotely through a mobile app or voice commands, allowing homeowners to monitor and manage their home environment from anywhere. Smart home gadgets enable users to optimise energy usage, customise settings, receive alerts, and create automated routines for enhanced comfort, efficiency, and peace of mind.
Here are the five best uses of smart home kits and delve into how they enhance convenience and efficiency in our homes
1.Home Security and Surveillance
One of the primary uses of smart home kits is to enhance home security and surveillance. With the integration of smart locks, doorbell cameras, and motion sensors, homeowners can monitor and control access to their properties remotely. Smart locks allow for keyless entry, eliminating the need for physical keys and providing an extra layer of security. Doorbell cameras enable real-time video monitoring, allowing users to see and communicate with visitors, even when they are away from home. Motion sensors detect any unusual activity and send instant alerts to homeowners' smartphones. By investing in smart home gadgets, homeowners can enjoy peace of mind, knowing their homes are protected around the clock.
2.Energy Efficiency and Smart Lighting
Smart Home Kit also promotes energy efficiency by providing intelligent control over lighting and energy-consuming devices. Smart lighting systems allow users to remotely control lights, schedule lighting scenes, and adjust brightness levels. They can even automatically turn off lights when no motion is detected in a room. This not only reduces energy consumption but also lowers electricity bills. Additionally, smart plugs and power strips enable users to monitor and control the power supply to various devices, ensuring they are not left on unnecessarily. By optimizing energy usage, smart home kit contributes to a more sustainable and eco-friendly lifestyle.
3.Home Automation and Convenience
Smart Home Automation is another significant advantage of smart home kits. By integrating devices like smart speakers, thermostats, and robotic vacuum cleaners, homeowners can create a fully automated living environment. Smart speakers with voice assistants enable users to control various aspects of their homes using voice commands. From adjusting the thermostat to playing music or ordering groceries, the possibilities are endless. Smart thermostats learn from users' behaviour and adjust the temperature accordingly, optimizing comfort while saving energy. Robotic vacuum cleaners can be programmed to clean the house at scheduled times, eliminating the need for manual labour. With the smart home kits, homeowners can simplify tasks and enjoy a more convenient lifestyle.
4.Health Monitoring and Wellness
Smart home kits have started to incorporate health monitoring and wellness features. Devices such as smart scales, sleep trackers, and smart mirrors equipped with fitness apps provide users with real-time data to track their health and well-being. Smart scales can measure weight, body fat percentage, and other metrics, syncing the information to a mobile app for easy monitoring. Sleep trackers analyze sleep patterns, providing insights into sleep quality and duration. Smart mirrors can display exercise routines and offer real-time feedback on posture and technique. These health-focused features help individuals stay on top of their well-being and make informed decisions about their health.
5.Entertainment and Media Control
Smart Home Kit offers seamless control over entertainment and media devices. With smart remotes and home theatre setups, users can easily manage their audio and video systems. Smart remotes unify control, allowing users to command multiple devices simultaneously. They also enable voice control, transforming the living room into a smart entertainment hub. Media streaming devices, such as smart TVs and speakers, provide instant access to a wide range of content, eliminating the need for separate remotes and multiple subscriptions. By integrating entertainment systems into Smart Home Gadgets, homeowners can enjoy an immersive, personalized media experience.
HomeMate Smart Home Kit
The HomeMate Smart Home Kit is a comprehensive system that allows you to control and automate various aspects of your home using smart technology. While I don't have specific information about a product called "HomeMate," I can provide you with a general overview of what a smart home kit typically offers. A smart home kit usually consists of a central hub or controller, along with a variety of devices and sensors that connect to it. These devices are smart lights, smart bulbs, smart plugs, smart switches, actuators, door/window sensors, motion detectors, cameras and much more.
The central hub acts as the brain of the system, allowing you to control and manage all the connected devices through a mobile app or a central control panel. It provides a unified interface for monitoring and controlling different aspects of your home remotely.
Using the smart home kit at your place can help you in various activities such as
Lighting Control: You can control your lights remotely, set schedules, and even change the colour or brightness of smart bulbs.

Appliance Control: Smart plugs enable you to turn appliances on or off remotely. You can also schedule their operation or set them to turn off automatically when not in use.

Temperature Control: Smart thermostats allow you to regulate your home's temperature remotely, helping you save energy and create personalized comfort settings.

Security and Surveillance: Door/window sensors and motion detectors can send alerts to your smartphone if any unusual activity is detected. Smart cameras enable live monitoring and recording of your home.

Voice Control: Many Smart Home Kits are compatible with virtual voice assistants like Amazon Alexa or Google Assistant. This allows you to control your smart home devices using voice commands.

Automation: You can create routines and automation rules to perform specific actions based on triggers or schedules.
HomeMate Smart Home Kit As Per Size Of The House
The HomeMate Smart Home Kit can be customized based on the size of your house and your specific needs. The kit typically includes a range of smart devices and components that can be installed and interconnected to create a smart home ecosystem. Here's a general guideline on how the size of your house might influence the components you need.
Usually for a Small Apartment/Studio, one needs a particularly few products that are useful in daily needs such as
Smart hub/controller: This is the central control unit for your smart home system.

Smart lighting: Install smart bulbs or switches to control your lights remotely or via voice commands.

Smart plugs: Enable control of appliances and devices plugged into regular power outlets.

Optional: Smart security camera or doorbell: Monitor your home remotely and receive alerts.
HomeMate provides customization of
1 BHK –Lite- 5 lights, 1 fan, IR Devices
1 BHK- Power- 9 lights, 2 fans, 1 A/C or Gyeser, and IR Device
Medium-Sized House:
Smart locks: Upgrade your door locks for keyless entry and remote control.

Smart door/window sensors: Monitor openings and receive notifications for security purposes.

Smart smoke and carbon monoxide detectors: Enhance safety with automated alerts.

Optional: Smart blinds or curtains: Control natural light and privacy.
HomeMate provides customization of
2 BHK-Lite- 9 lights, 1 fan, and IR Device
2BHK-Power- 12 lights, 2 fans, 2 A/C or Gyeser and 2 IR Devices
Large House
Multiple smart hubs/controllers are better for coverage for a large house. Additional smart lighting, switches, and plugs to cover more rooms and areas.
Smart irrigation system: Automate your garden watering based on weather conditions.

Smart garage door opener: Open and close your garage remotely.

Smart home security system: Comprehensive security with cameras, sensors, and alarms.
HomeMate provides customization of
3 BHK-Power- 14 Lights, 4 fans, 3 A/C or Gyeser and 2 IR Devices
Remember that the specific devices and brands can vary. HomeMate is a renowned brand for its research and product quality. Therefore, choose the ones that fit your requirements and are compatible with the ecosystem. The size of your house primarily determines the number of devices you'll need, but personal preferences and specific functionalities desired also play a role in your choices.
Conclusion
Smart Home Kits have revolutionised the way we live, enhancing convenience, security and efficiency in our homes. From improving home security and energy efficiency to promoting automation, health monitoring and entertainment control, these kits offer a wide array of benefits. As smart home technology continues to evolve, the possibilities for creating more innovative and more connected homes are boundless. By adopting HomeMate smart home kits, homeowners can streamline their routines, save time and energy, and enjoy a more comfortable and convenient lifestyle in the digital age.