6 Ways Smart Bulbs Can Make Your Home Smart
6 Ways Smart Bulbs Can Make Your Home Smart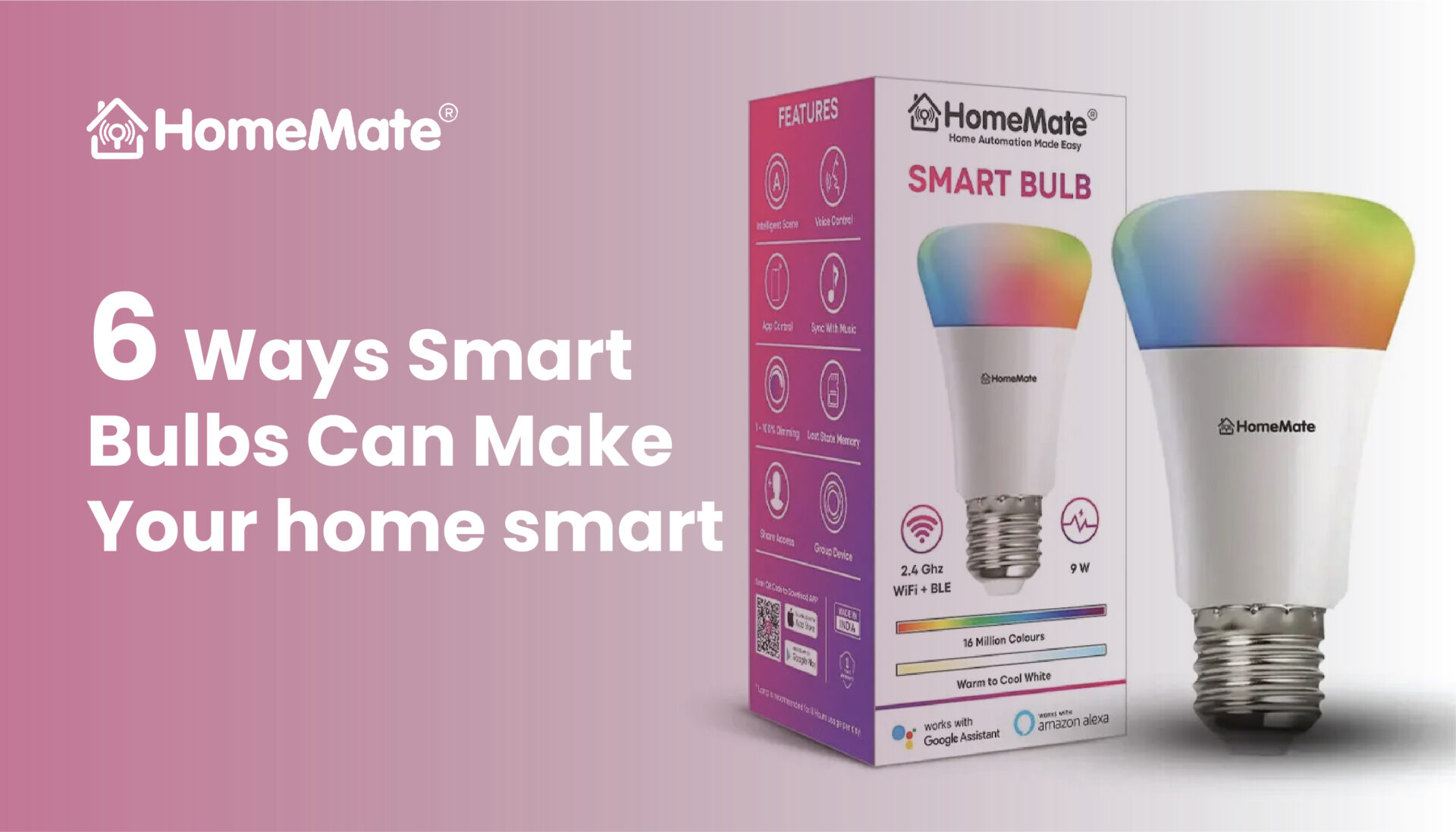 Smart Bulb plays an important role in making a smart home. With time, the concept of a "smart home" has gained importance and popularity. These components have made life easier and smoother for each individual. Numerous products are available to convert traditional homes to smart homes, such as HomeMate Smart bulbs, smart lights, security systems, sensors, actuators, and much more that have made life comfortable. A key component of this trend is the smart bulb installations in residential lighting systems. Hence, the installation of these innovative lighting solutions provides convenience and also enhances the overall beauty of the ambience and energy efficiency of your property. 
HomeMate is one of the renowned names in the smart home industry. HomeMate has introduced various advancements in technology that have transformed numerous aspects of our daily lives. One of the products that has gained significant attention is smart lighting systems. Over time, HomeMate's experts are trying their best to make that product that helps to convert traditional places such as homes, offices, public spaces, and much more. Hence, the Smart Light system is revolutionizing the way we illuminate our surroundings. In the lighting system, HomeMate offers, Smart LED wall panels, Smart Bulbs, Wifi Bulb, LED downlight 9W, LED downlight 15W, Smart LED Strip, CCT LED strips, smart surface lights, LED Batten, and much more. These products have made life convenient for users via voice control on Google Assistant or Amazon Alexa, access through mobile phones and manually.         
Here, we will explore six compelling ways Smart Bulbs can make your home smart
1. Remote Control and Automation
Wifi Bulb has one of the most appealing features is its ability to be controlled from anywhere. To operate the Smart Light from the mobile phone, one needs to install the mobile application and connect it to the smart device so that you can operate your smart home devices easily. Moreover, home automation also provides the provision of operating the devices through smart home assistants like Alexa or Google Home, you can effortlessly turn lights on or off, adjust brightness levels, and even change colours from anywhere in your home or even when you're away. These features help to control functionality and add convenience and security. Moreover, using smart devices helps you to create automated schedules to simulate occupancy and deter potential intruders.
2.Energy Efficiency
The smart bulb is mainly designed to save energy and time for users. Traditional incandescent bulbs use a significant amount of energy and produce heat, while Smart Led Bulb uses advanced LED technology to deliver bright, high-quality illumination while consuming minimal power. Moreover, Smart Lights For Home allows you to set timers, motion sensors, or daylight sensors to optimize energy usage. By reducing energy consumption, you can save money and also contribute to a greener environment.
3.Customizable Lighting Scenes
Gone are the days when we use single, static lighting setups in our homes. The smart bulb allows you to create customized lighting scenes. You can change the lighting as per your moods and activities. Whether you want to make your home a relaxing ambience for a movie night, a vibrant atmosphere for a party, or a productive environment for work, you can easily adjust the colour, brightness, and intensity of your Smart Led Bulbs and Lights to meet your expectations. With a few taps on your mobile phone, you can change the ambience of the place where you are living.
4.Integration with Smart Home Systems
The smart bulb is designed to seamlessly merge with other smart home devices and systems. Through renowned protocols such as Wi-Fi, Zigbee, or Z-Wave, you can easily install and sync your smart bulbs with other connected devices such as security cameras, doorbells, LED panels, door locks, and much more. This integration helps you to create intricate automation scenarios. Integration of your home with the Smart Home Gadgets makes you lead a comfortable and easier lifestyle. Moreover, you can have a look at your place and operate the appliance whether you are at a far place.
5.Voice Control
The advent of voice assistants has brought a huge change to operating smart gadgets. With a single command through voice assistants like Amazon Alexa or Google Assistant, you can control your whole smart home automation system easily. Moreover, you can also synchronise the colour of lights, play music, and turn off and on the Smart bulb with simple voice commands. Whether you're busy at your office and left your place in a hurry or simply prefer a hands-free experience, you can ask your voice assistant to do the specific function of turning on or off the smart products. Moreover, you can also adjust brightness, or change colours, effortlessly transforming your home into a smart living space with a single command.
6.Enhanced Sleep Patterns
Smart bulb helps to contribute to improving your sleep patterns and overall well-being. A few smart home models have particular features like "wake-up" or "sleep" routines, where the bulbs automatically turn on with the lights of natural sunrise and sunset. The change in the lighting system helps to regulate your body's internal clock. Hence, it makes it easier to wake up in the morning or wind down in the evening. Moreover, you can adjust the colour of the bulbs as per your needs to promote relaxation and create a soothing environment for a restful night's sleep. 
Applications of Smart Lighting Systems
Find out where you can utilise smart lighting systems below.
1.Residential Spaces
Smart lighting systems have one of the most popular devices that are used in homes. The usage has become more due to the factors such as convenience, energy savings, aesthetic appeal, and much more. Whether you are at the office or out of town, homeowners can control smart home products, such as Smart Led Lights, fans, doorbells, security systems, and much more to lead a happy life.
2.Commercial Buildings
Smart lighting systems are the most used products in commercial spaces such as offices, retail stores, hotels, and much more. The usage of smart home appliances allows us to save energy, optimize employee productivity, and provide enhanced lighting experiences for customers.
3.Occasions
You can connect Smart Led Bulb lighting systems during festivals. Moreover, you can check the brightness and set on-off schedules through HomeMate Smart App. In addition to smart bulbs, you can also check out other lighting options such as smart LED strips. 
Conclusion
Installing a Smart bulb has undoubtedly transformed the way we illuminate and interact with our homes. Their easy accessibility, remote control capabilities, energy efficiency, customizable lighting scenes, voice control system, and sleep-enhancing features, has made them unique. The HomeMate Smart bulb will provide an array of benefits that enhance convenience, security, ambience, and well-being. Hence, to lead a comfortable and easy life, one must switch his traditional home to a smart home. Embracing this innovative lighting technology allows you to truly make your home smart and experience a new level of comfort and control. HomeMate provides products that are easily compatible with the Smart Home Gadgets and easy to install. Such as smart LED lights, actuators, touch switches, smart security products and smart kits. Order now and make your traditional home, a smart home. Click here shop now!