Best smart home security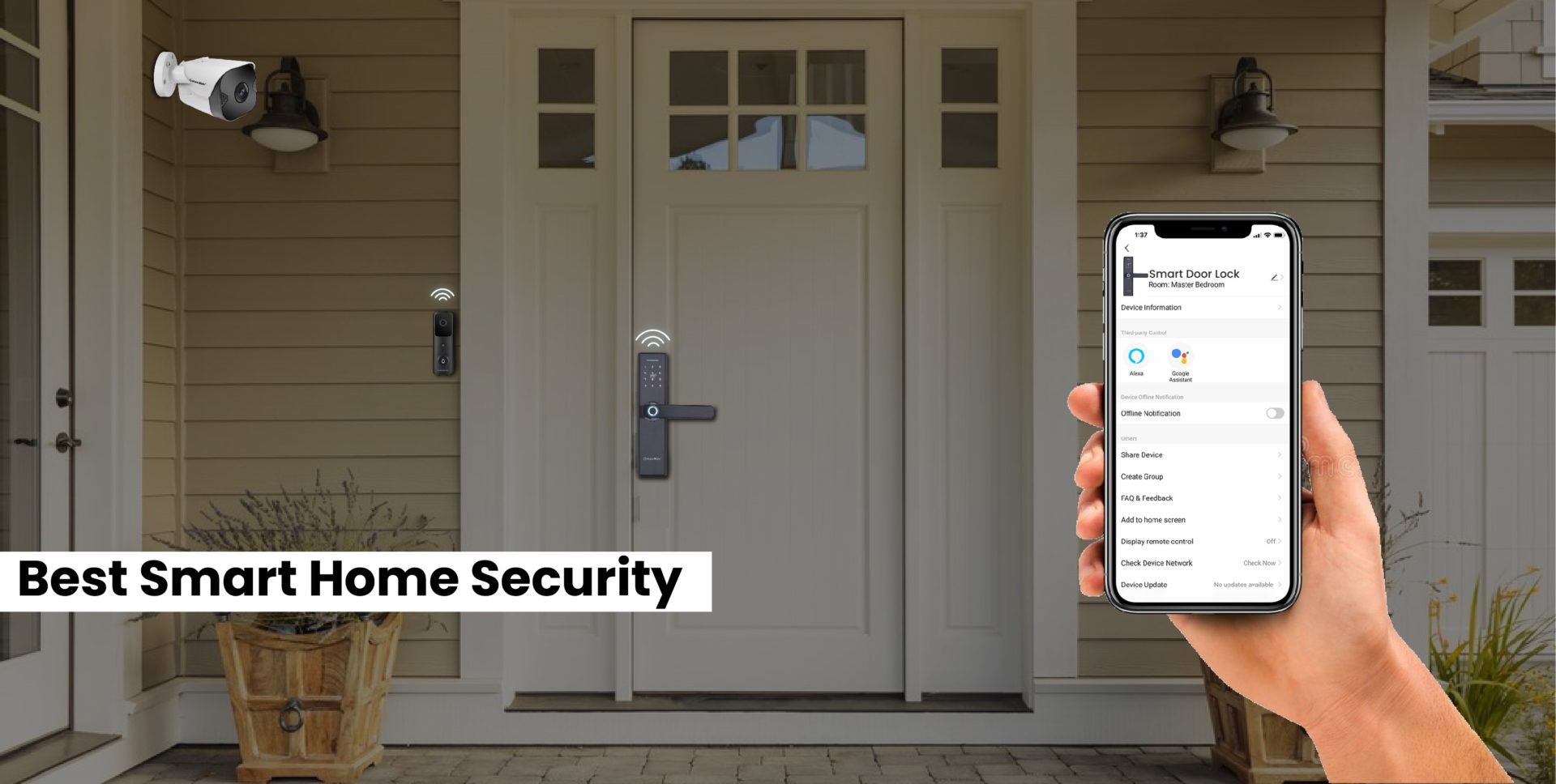 The provision to control your living space at your convenience is becoming common these days. The remote and automated systems to control the lights, bulbs, door locks, cameras, smart panels, and much more are considered to be luxurious and easy to use. In case your home is completely part of smart products, then your home becomes an integral part of the security system. And the best smart home security is the need of today's world. 
Keeping your loved ones safe and secure is always on priority. Choosing the right smart security system is a big decision. After all, you are not in favour of taking risks. HomeMate provides the best security system options in India. We offer high-quality outdoor cameras, indoor cameras, smart lock, and video doorbells, which brings complete security and convenience to your lifestyle.
Pros Of Having The Best Smart Home Security
Installing a smart home security system provides many benefits in daily life. It provides the homeowner with the liberty to access their home as per their choice
Speedy response

Support Google Assistant and Alexa

The fine touchscreen system

Easy and quick installation

Convenient to use

Reasonable

Access to your home services while being far away
Types Of Smart Home Security Systems 
In the era of modernisation, smart facilities are playing a vital role in providing ease to the lifestyle. Numerous people have started shifting their lifestyles from traditional ones to modern ones. HomeMate Smart products like smart doorbells, smart cameras, smart lights, smart switchboards, and much more have given easy access to people who wonder if they are out of their homes then how they would manage things.
Smart Sensor For Door And Window
Smart sensors provide security to your home around the clock.  These sensors are fixed on the doors, drawers, windows, almirah, cabinets, or the places wherever you desire for. Whenever the particular area is opened or closed, you will receive a notification on the gadget which is linked to that sensor. This is directly connected to the Wi-Fi. It has motion sensors that help to calculate the activity and send a push notification to your mobile phone. In case there is some mishap, the smart sensor will start buzzing its security alarm systems to make you aware of any emergency.
Best smart home security cameras provide indoor and outdoor provisions to secure your living place. This is best known for night vision, baby monitoring, and motion detection. HomeMate smart cameras provide high-quality resolution for both daylight vision and night light vision. Moreover, it helps to communicate on the 2-way audio. Installing these cameras provides you with the liberty to look after your place even when you are at a distance. On a voice command, an indoor smart camera shows you the video of the desired time slot. In case there is any unusual activity on the wifi smart camera, a notification will pop up on your linked gadget. HomeMate offers the best CCTV camera for home options.
Doorbells are common in every house. But in case a home has a smart video doorbell then it becomes convenient to access it. When the smart video doorbell rings, you will get a notification. On your gadget, you will be able to see the visitor and have 2-way audio provision for the homeowner and the visitor. HomeMate doorbells are designed extraordinarily so that there is low power consumption. This doorbell has a wide range of 130 degrees of sensing motion. Installing this device in your home is the easiest way. Just pair it with your mobile phone with the help of wifi or Bluetooth.
HomeMat Smart lock provides the provision of Fingerprint unlocking of the door. Around 100 fingerprints can be stored in the system. You can also set up the relocking of the system after every use. You can also give access to the closed guest to unlock the door with the registered fingerprint. Moreover, it also provides a system of voice recognition which makes it easier and more convenient for the homeowner to access it.
What To Look For While Choosing The Right Security System?
While choosing a smart home security system, there are the following things that you need to keep in mind:
Camera Quality:

The quality of the cameras should be good. As the cameras are going to help you in keeping an eye on your place whenever you will be out.

Sensors:

The combination of sensors with the alarm bundled up by a few manufacturers, which is the best mixture for the home.

Siren:

Many manufacturers offer high-volume siren products. But HomeMate offers sound quality which is not much annoying but alerts you on your phone spontaneously.

Installation:

Installing smart products should be easy and convenient.

Compatible with other home devices:

In case you have other smart plugs, lights, bulbs, panels, locks, sensors, and much more that it's

smart home security

. You can make a collaborative form in Google Assistant or Amazon Alexa and command it with voice assistance.
Major Reasons Behind Choosing The Best Smart Home Security
Control The Home Security System At Your Convenience
Smart products have flipped the traditional lifestyle into a new era. Access to your home products and appliances at your own pace is a brilliant way out. Moreover, you can overlook your home from anywhere with the help of smart home security.
The increase in the number of security cameras has made things easier and smoother for each individual. One can look after his house while being at a distance or can keep an eye on the children while the maid is taking care of them and much more. HomeMate provides the Best smart home security system that not only helps you to keep your loved one safe but also saves you from crime.
Notify You Of Mishappening
HomeMate becomes the top smart home security system provider by providing security alarm sirens that help to notify you in case of any emergency or suspicious activity takes place. Therefore, based on the notification that has been popped on your gadget, you may act accordingly.
Many companies offer the Best smart home security systems but HomeMate offers top-notch quality smart gadgets like door locks, smart windows, smart doorbells, smart indoor and outdoor cameras, smart lights and bulbs, and much more. In case you could not turn off the appliances, then a simple tap on your mobile phone can do this task for you. Only you need to be connected to the wifi system.
The aesthetic sensation of residing in a safe place always gives pleasure and a comfort zone to each individual. The installation of HomeMate's Best smart home security system into your house provides additional security to you and your loved ones.
Conclusion
Best smart home security devices make your place safer and automated. HomeMate provides you with reliable quality products. The best CCTV camera brand in India is HomeMate. The products are easy to install and use. Moreover, it supports both amazon Alexa and google assistant. You can now call for the free installation facility by HomeMate. Grab your intelligent security products by clicking here!