Create The Perfect Ambience With Smart LED Strips
Create The Perfect Ambience With Smart LED Strips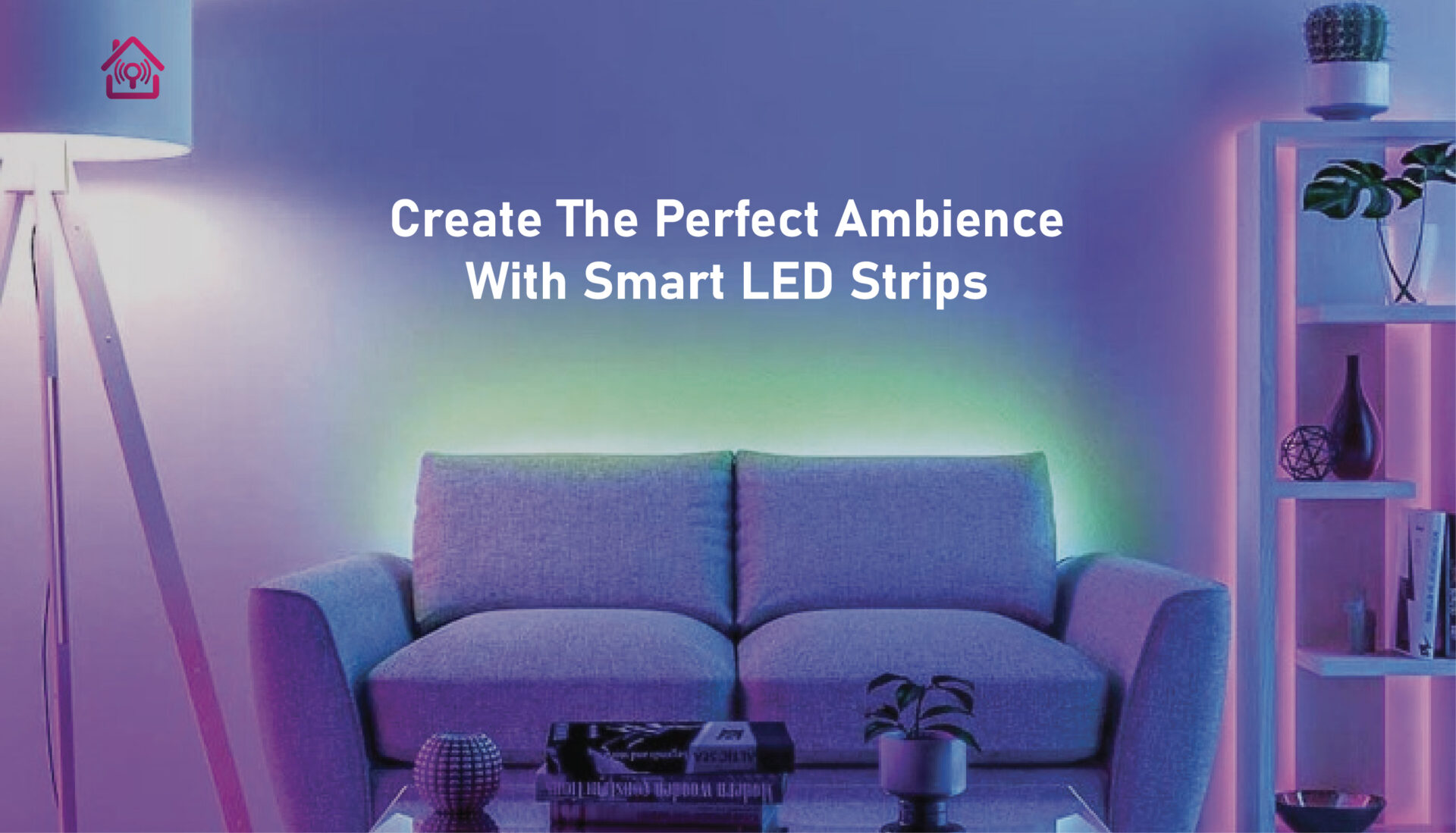 Smart LED strip provides a simple and inexpensive way to make your home decor notch and look luxurious on a budget. They are flexible and can be applied anywhere, from your bedroom to the ceiling. Now, create an atmosphere that you like for all the festivals and home decor of your choice. Make HomeMate smart LED strips match the colours of your home and your personal space.

Get luxury and comfort all at once with a smart led strip from HomeMate. HomeMate provides easy-to-install LED strips which work as smart lighting. With about 16 million colours to choose from, you can set bedroom LED strip lights with ease. All the smart LED strip lights are dimmable and are compatible with Amazon Echo & Google Assistant. Now you can control the smart LED strip with your fingertip by simply downloading the HomeMate smart app. Moreover, HomeMate provides multiple smart solutions like sensors, security locks, actuators and a lot more! Get customized retrofit smart LED strips without a hassle with HomeMate. 

 

What Are Smart LED Strip Lights? 

Smart LED strip lights are a new form of lights which are having millions of colours and have versatile in colour changing and uses. Moreover, they exhibit millions of variants of colours and combinations.

Here are some interesting Characteristics of the Smart LED strip Lights 

Smart LED strip lights have individual microchips with individual LED emitters that are flexible in usage. 

They have a wide range of colour combinations. 

They come in 5-meter to 10 meters long strips which can be cut to your desired lengths.

They are adhesive from both sides and can be easily mounted anywhere in your house. 

They also have an inbuild security system feature available which can be used to secure your home by changing the colour. For this, you can opt for the HomeMate Smart LED strip lights. 

You can get Smart LED strips from the HomeMate website. Wait no more, get the Smart LED strip lights from HomeMate which are easy to install and control.  

 

Add Up Colours With HomeMate: Different Types of Smart LED Strip Lights  

 

Get in the study mode, work mode, and reading mode with these amazing smart LED strips. Moreover, with easily compatible with Google Home, and Amazon Echo devices and music sync make the lights move to the beat of your own songs. 

Here are some smart LED strip lights options you can go for!   

 

RGB LED strips are the perfect setting for your home. RGB lights are red, green and blue light. They have these combinations of three colours. These three colours, make good combinations and are a perfect way to light up your room. Get the music to sync with your lights and play it at your fingertips with our HomeMate Smart app.   

  

These are the lights with the latest combination of technology. Moreover, it has advanced independent controls which enable you to get multiple colour combinations rapidly. Also, the vivid range of colours makes you feel like you are having a beautiful rainbow in your perfect home. Say bye to the gloomy days and get a smart RGBIC LED kit and sync it with your music and mood.   

  

RGB lights already show green, blue and red colour combinations. This gets even better with C and W. This C and W gives more cosy warm and cool colours. With the RGB-CW LED Kit, you can have all kinds of different colours. Moreover, the combination of colours is in millions. With many warm as well as cool colours make your morning, noon and night a marvellous time to lift up your mood.    

  

These lights use all colours. The mix of red, green, and blue along with warm white tones and white as well mixes everything together. Moreover, the intensity of the white colour is on point. Along with this, you can now get a much softer yellow-white colour tone which is perfect to get a sun-kissed background. 

   

This is a correlated colour temperature LED strip light. This brings out the white LED colour scheme along with warm lights. Also, it has a much cool white and can create the perfect lighting setup for creative photoshoots at home. 

Make It Magical With Easy-To-Install Smart LED Strip Lights 

HomeMate offers the perfect Smart LED strip which is an easy and affordable way to jazz up your home. LED Strip light price is set up in a way for you to experience luxury even on a low budget. Along with this experience the luxury at your fingertips by using the HomeMate smart app. Moreover, now you can use the Amazon Echo devices to set up the perfect mood according to your aesthetic. These are the smart lights for home you never knew you needed. 

Here are some ways you can use the elegant and aesthetic Smart LED strip which will add the perfect home decor 

You can brighten your wardrobe and get the perfect girly experience or set it up in your daughter's room.

Get in the Stargazing mood in the Bedroom 

If you got stairs then light them up with a smart LED strip to Highlight the Stairs

Set up the mood for the Movie light with a smart LED strip. 

Decorate the ceiling with a smart strip with multiple colours. 

Get into the disco mood, record reels bordering the mirrors at home. 

Working from home, spice it up Illuminating your work desk without hassle. 

Having kids? Light up the Bunk Beds with the most unique smart LED Strip compatible with Amazon Echo devices.

Lighted up the Kitchen Platform with beautiful colours. 

Get a beautiful magical ambience by lighting up the garden area. 

Difference Between Common Strip Lights And Smart Strip Lights

You might be wondering why to opt for smart strip lights rather than common strip lights. Aren't they the same? Well, the answer is no. Here are some ways that show smart strip lights are a better option!

Smart strip lights are equipped with digital drivers which are microchips. These microchips help relieve data and control all the LEDs individually. Whereas, it's not possible in the normal regular common strip lights. 

You can now control the smart strip lights with a smart app on your phone. Simply by downloading the HomeMate Smart app, you can control the smart strip lighting. This is not possible in the common strip lights. With the ease of moving your fingertips, you can make the smart strip lights sync with the music of your choice. Moreover, this is an advanced function that is not available with the common strip lights. Hence, with millions of colour combinations, you can adjust the smart strip lights according to your mood and aesthetic. 

    

The smart strip lights help you create the perfect atmosphere according to your interior decorations. Also, you can use them with the online control panel and get it to dance along to the music.

The colours will change as the music sync which is a great way to entertain your guest, especially at parties. These smart strip lights are a perfect way to boost up the party mood or any celebrations at your home. Moreover, this isn't possible with the common strip lights. Change the way celebrate all your happiness with happy colours from Smart LRD strip lights.

Know The Benefits Of Smart Strip Lights

Smart control i.e it is having digital control which makes it easier to use.

Compatible with all Amazon Echo devices and can be used with ease without much hassle.

Sync with the music and make it change colour with the beats. 

Millions of colour combinations are available with just one click. 

Works on your fingertips with the HomeMate Smart app 

Easily Installed anywhere, including stairs, ceilings, mirrors, kitchen tops etc. 

Perfect to spice up your online posts with beautiful colour combinations.

Good for lighting setups with creative combinations of colours.

Summing It Up!

Getting your home a new setup that is more luxurious and trendy. So, grab the Smart LED strip to create a perfect wow moment for your visitors and guests at home. Lift your mood on your low days and use voice commands to change them according to your mood. Get your dance party at home with dimmable options from HomeMate.

For a more versatile lighting system opt for HomeMate smart LED strips where you can choose your favourite colour combinations. HomeMate provides a wide range of strip lights to choose from. Get effective smart LED strips to create a wonderful magic experience at a very low price. With the HomeMate smart app control the lights with one touch. Click here to order your Smart LED strip today! 

Wait no more, go to the official HomeMate website and order your favourite Smart LED strip lights and change the way you celebrate your every day with beautiful colour combinations.