How to Make Sure You're Getting the Best Smart Sensors?
How to Make Sure You're Getting the Best Smart Sensors?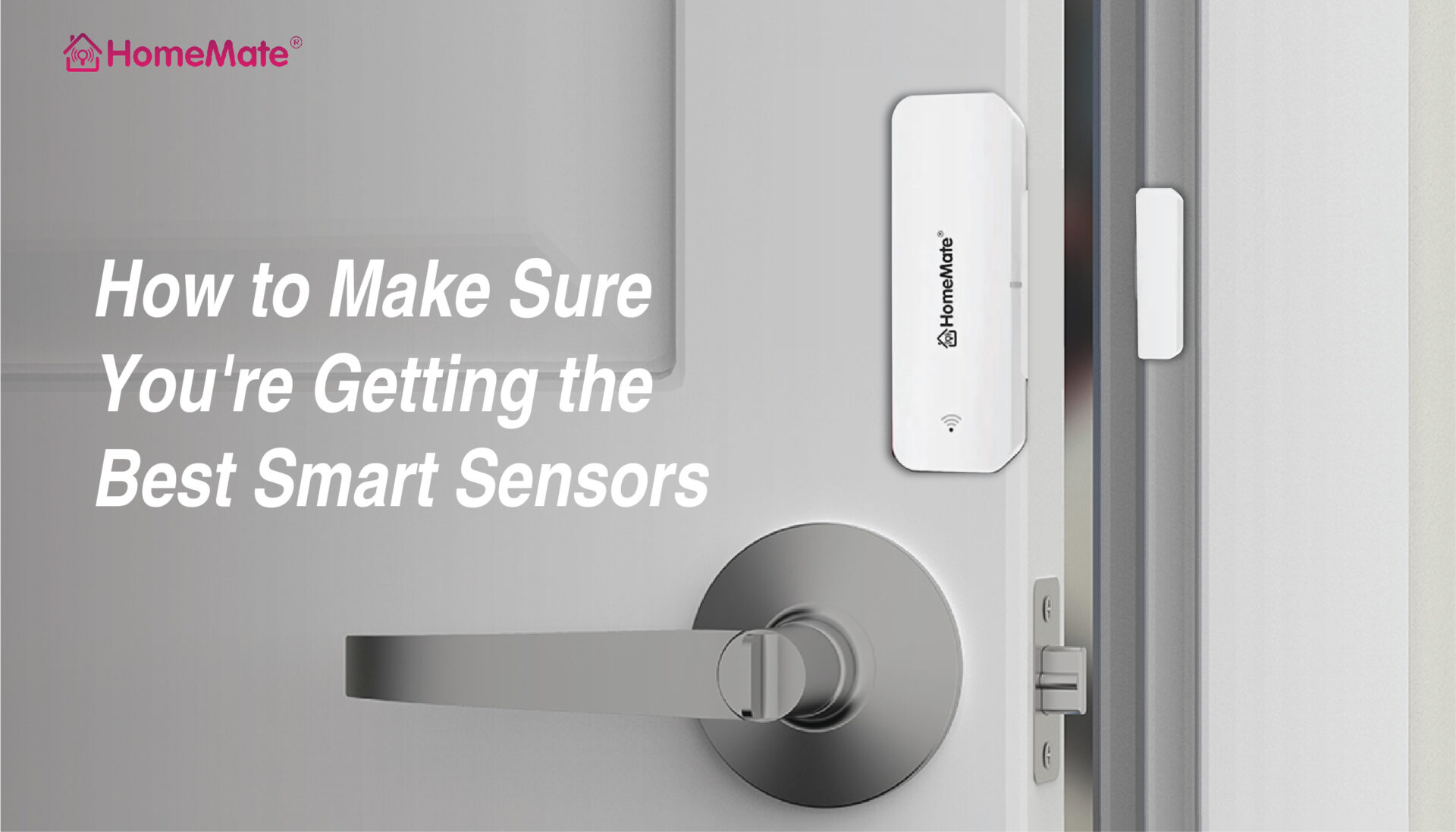 Looking forward to getting smart sensors for your home? Or your workplace? Then keep reading on! If you are a working parent and need to keep an eye on your toddlers by clock monitoring your home then HomeMate brings you the perfect easy-to-use smart sensors. Simple to use and install. Moreover, you can use it on your cell phone or your computer and keep a close watch at your home. Also, if you are looking forward to using wifi sensors for your workplace then HomeMate brings a range of smart sensors perfectly applicable to your needs.

Prevent robberies, get your home secured, and keep an eye on every inch of your property with HomeMate Smart wifi sensors. Get rid of those old base sensors and opt for the new wifi sensors which are compatible with today's high tech and are the best option at an affordable price.

Keep reading and learn more about smart HomeMate sensors and why HomeMate provides you with one of the best wifi sensors in the market.

What Are Smart Sensors?

Smart sensors take input out of your surroundings and then use it in the built-in computer to give you the data on specific detection. These Smart wifi sensors use accurate information about the surrounding environment and process it quickly to give you updates. Moreover, these wifi sensors use less noise and give perfect recorded videos by monitoring and controlling mechanisms that are built into them. These sensors have a wide variety of types which includes motion sensors as well. Motion sensors are great if you have a place to keep your eyes on and if you have a toddler to deal with.   

These wireless sensors are an important part of our daily lifestyle now. With their unique identifier ability and quick data transmission, it gives us valuable information at a low cost. The smart sensors are made up of sensors, microprocessors, and communication systems. These sensors include several primary sensors within them which help in amplifying control and filtering out unwanted data which isn't required. Moreover, digital processing it's easily used for communicating.

How Do Smart Sensors Work?

Smart sensors use raw base sensors tied with integrated computing resources which help us get processed information. Smart WiFi sensors can be used to detect many things like heat, pressure, motion, or even light. The microprocessor helps in signalling and filtering the noise signal and converts it into signals which can be used in a digital formal. Moreover, these smart wifi sensors can be connected to a private network as well as to the internet and help in communication through external devices.

Smart Sensors By HomeMate

 

Sensors are designed to detect any activity to mot trigger detection easily. Smart wifi sensors can be used widely and are applicable for many activities. HomeMate provides a range of smart wifi sensors that you can choose from. Moreover, HomeMate devices are compatible with Android and Apple devices and easy to use. Among smart home gadgets provided by HomeMate, the best sensors include

 

Wifi smart door/window sensor 

The smart windows and smart door sensors are highly compatible with everyday devices. Moreover, wireless sensors work great and do a clock monitoring of your home. This smart sensor will notify you whenever there is a door opened or a window opened. Also, you can use these sensors to detect any cabinet or drawers being opened or closed. You can get a push notification on your device whenever the doors and windows are opened. Moreover, these wireless sensors are easy to install and have flexible mounting options as well.

 

Wifi motion sensor 

With HomeMate Motion Sensor you can now easily know the status of movements in your home whether it's outdoors or indoors. You can also set the wifi motion sensor into compact small places or in your backyard and keep an eye on your house from every single angle. It can connect directly to your wifi and can be run on batteries. Get the wifi motion sensor for a much more secure environment and get control of the surrounding of your home, in your home, or at your office or workplace.

 

Alarm siren

These alarm sirens are powered with USB cables and make a sound or light up when triggered. You can choose the sounds which you like and it can be set up easily. These Alarm sirens are small and can be applied to small compact places as well. Moreover, it can also be a runner on battery and no hub is required. Connects with wifi easily without any hassle. 

The alarm sirens are perfect to use if you stay away from your house and need to pay attention while you are out. Moreover, these smart alarm sirens are great to use for huge factories where you need to keep constant eyes and are useful for offices and stores as well. 

 

Difference Between A Smart and Base Sensor

What's the main difference between a smart and a base sensor? Are WiFi sensors better to use? Or do base sensors work just fine? Here are all the answers you are seeking to find.

WiFi sensors are having digital motion processors which help detect small motions and notify you immediately. These are lacking in the base sensors, hence they are not good in detection motions. 

Digital Motion Processors are microprocessors that give a much better performance in seconds. Whereas, base sensors won't be able to carry this task out as they don't have microprocessors. 

Smart sensor filters out the noise and normalizes the data and give better communication with external devices. And you can guess it right, this is not possible with base sensors. 

The smart sensor can easily be connected to wifi and can run on batteries and fit into small compact places to give a better view as well as motion-sensing information to you in seconds. Base sensors are having difficulty performing these basic activities.  

The base sensors are just simple devices without the Digital Motion Processors and even without compute resources that are required for data processing. 

Smart wifi sensors have native processing capabilities and are lacking base sensors. 

Base sensors may cost less than smart wifi sensors but they also don't get much work done. Moreover, nowadays there is a wide range of affordable smart sensors from HomeMate.

Why Do You Need To Use Smart Sensor?

In today's world having security and keeping an eye on your house, office, factories, stores or any space is crucial. HomeMate comes with a range of smart sensors and here is why you need to use a smart sensor as soon as possible.

The smart sensor communicates quickly and notifies you of any unwanted activity which can prevent any robbery or break-in. 

They have multi-sensing technology which is highly encouraged to use to keep your safety against robbers 

Affordable wifi sensors are available, so no reason to not install them

They are highly reliable and bring you a sense of safety.

They are easy to handle and installation is simple. 

Smart Wifi sensors are easily maintained and can fit into compact places to give you a whole view of your property which will help you keep an eye on every corner of your property.

They have a flexible operating system and are compatible with Android as well as Apple devices. 

FAQs 

Are wifi sensors compatible with my Android phone? 

Yes, the smart HomeMate sensors are compatible with Android phones easily via its smart app. 

Is a smart HomeMate sensor expensive?

The HomeMate smart wifi sensors are extremely affordable and come with a range of prices. 

Is it true that smart HomeMate sensors also save electricity? 

Yes, the HomeMate smart wifi sensors are easily switched on and off through a touch of a finger on HomeMate smart app. Meaning, it's not necessary to keep it on at all times, when not necessary. In turn, it saves your electricity.

Can I fully operate my HomeMate wifi sensor from my mobile phone?

Yes, you get full-on smartphone control of your HomeMate smart wifi sensors. Moreover, you can easily turn the HomeMate sensors on and off from your mobile phone as well. 

Are wifi sensors compatible with Amazon Echo devices?

Yes, you can get HomeMate wifi sensors to connect with Amazon Echo devices. Moreover, you can also get a push notification on your phone from the HomeMate smart app.

Conclusion 

Getting smart sensors are a necessity in the 21st century where everything is digitized. With robbery and trespassing on your private property, it is essential to keep an eye on every inch of your property. Therefore, HomeMate brings you the perfect Smart wifi sensors which are compatible with Android and Apple and can be fitted into small compact places as well. Moreover, HomeMate smart sensors are extremely affordable and the installation is pretty easy. It can run on battery and can be easily connected to your wifi. 

There is no excuse to not install smart wifi sensors now, wait no more and get your HomeMate smart sensors today!