Smart Touch Switches – HomeMate
Smart Touch Switches – HomeMate
A large number of people are installing "smart" devices in their homes, among them, the Smart Touch Switches are at the top of the list. Smart Touch Switches can be an ideal part of home automation. In this blog, you will learn how smart switches for home work and how beneficial they can be! HomeMate is one of the top smart switch manufacturing companies in India. From 1,2,4 node smart switches to 3+1 fan node switches, HomeMate has it all. Let's get into detail.
How Do Smart Touch Switches Work? 
There is a great difference between a traditional and a smart switch. Smart switches can control anything it is linked with. Such as fans, wired appliances, lights, etc. Moreover, unlike outdated switches, HomeMate smart switches can also be controlled via HomeMate Smart App, via remote, Alexa, and Google Home. Moreover, smart switch boards come in different sizes and shapes. A few smart switch types also work as traditional switches for lights, while others can be operated via app control. 
Personal choices of how to use smart switches differ from one individual to another. A few people prefer giving voice commands, such as "switch on the fan", whereas others like to use apps on their mobile phones. For these reasons, we recommend HomeMate smart switch boards. 
Smart Touch Switch Features
Schedule Timings: You can set a timer for a modular switch board via the app. For example, set a timer to switch off the light at 10:30 pm. Even, your geyser can be turned on at a specific morning time every day. 
Voice Control: Voice control via a device like Amazon Echo, Google Home, Alexa, etc. 
Warranty: Smart switches from HomeMate come with a year's warranty.
Mood Lighting: You can set how many lights to stay On or Off in your rooms connected to smart switches via a smart app. 
Connect With Other Smart Home Devices: You can connect smart electric switches to integration devices like smart home hubs
Backlight LED: Dual color LED light makes it simpler to understand the switch state, and the backlight helps you detect switches in darkness. 
Tips To Use Smart Switches
A neutral wire is ideal for connection, kindly check it before making a purchase. 
Please make sure input for output connections and power supply for the load.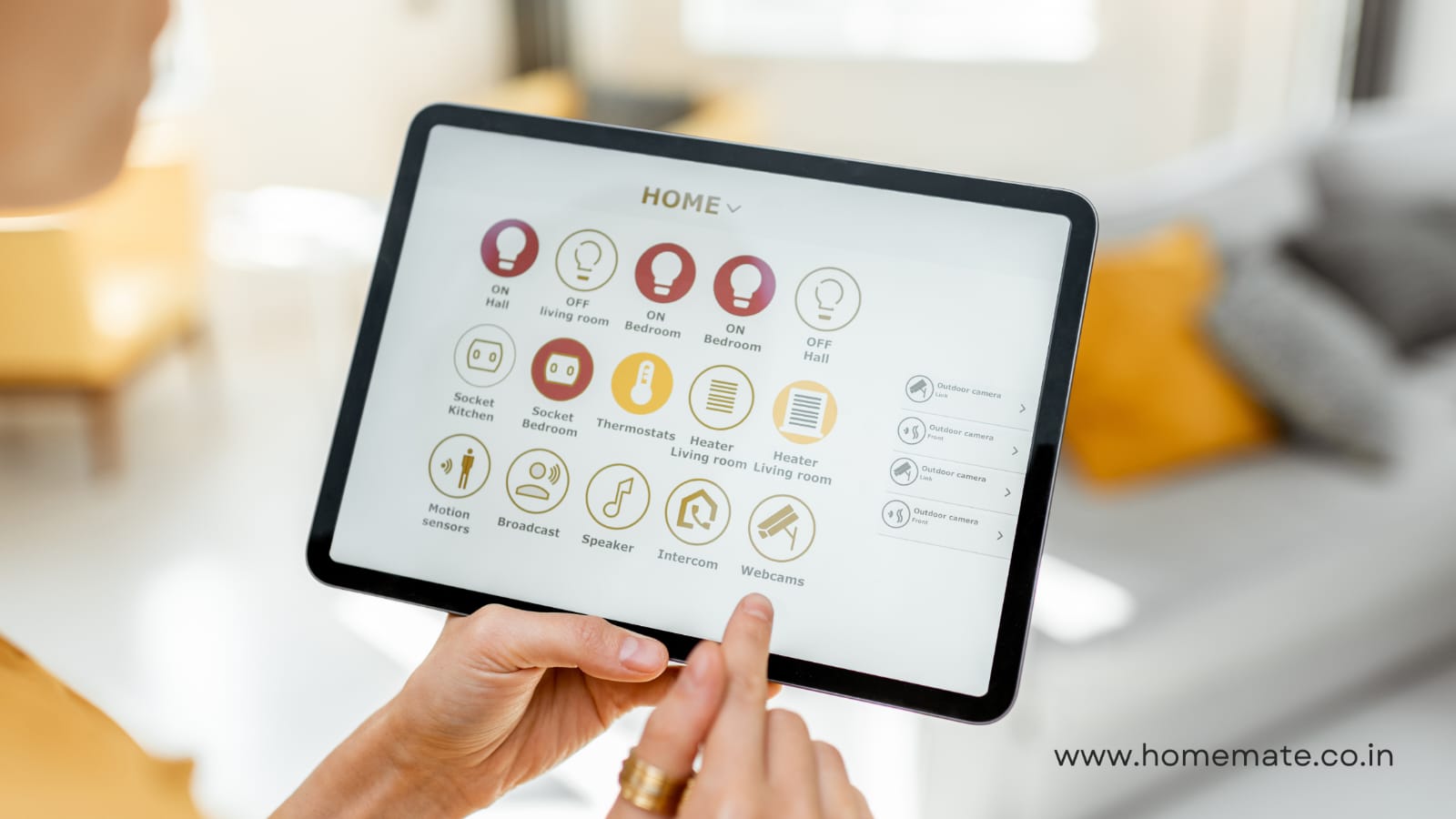 Traditional v/s Smart Switches
Smart switches are available at different prices, depending on the kind of nodes. Generally, smart switches are more costly than traditional electrical switches. You can find smart switch or modular switch board prices a bit more expensive, due to the benefits it comes along with. Further, the benefits of using smart switch boards in India are as follows: 
1. Convenience 
Smart switches are easy to control from any place and at any time, as long as it is connected to the internet/Wi-Fi. For instance, if you are traveling and you forgot to turn off lights and fans, you can do it via an app. Yes, it is an easy home control. Smart switches are easily programmed to turn off or on when someone enters and leaves the room. 
2. Multi-Device Connectivity
Being a part of smart home automation, many switches can integrate a good number of devices for a comfortable living experience. Moreover, a smart touch switch can be programmed as a custom alarm. For instance, when HomeMate sensors sense a motion, a light will automatically turn on connected with smart switches. Similarly, lighting and fans can easily be programmed to switch on before the homeowner reaches home late evening. 
3. Energy-Efficient
Using smart touch switches to efficiently operate heating, cooling, and lighting appliances can result in great savings in terms of utility bills every month. You are free to set timers via HomeMate smart app and control energy consumption accordingly. 
Conclusion
 A smart touch switch installation can provide you with plenty of benefits, such as better control, security, and convenience. If you are finding the best switches in India, check no more than HomeMate. You can have a look at a list of smart switches by HomeMate by clicking here. (CLICK HERE)
HomeMate offers complete home automation products including smart lights, actuators, touch switches, security, and a lot more! Being in the industry for years, we keep ourselves updated with leading technologies in the market. Moreover, we take pride in calling ourselves the best smart switch company in India. Moreover, our smart switches come with a year warranty and easy installation. Wait no more and switch to smart touch switches today!