One Day In A Smart Home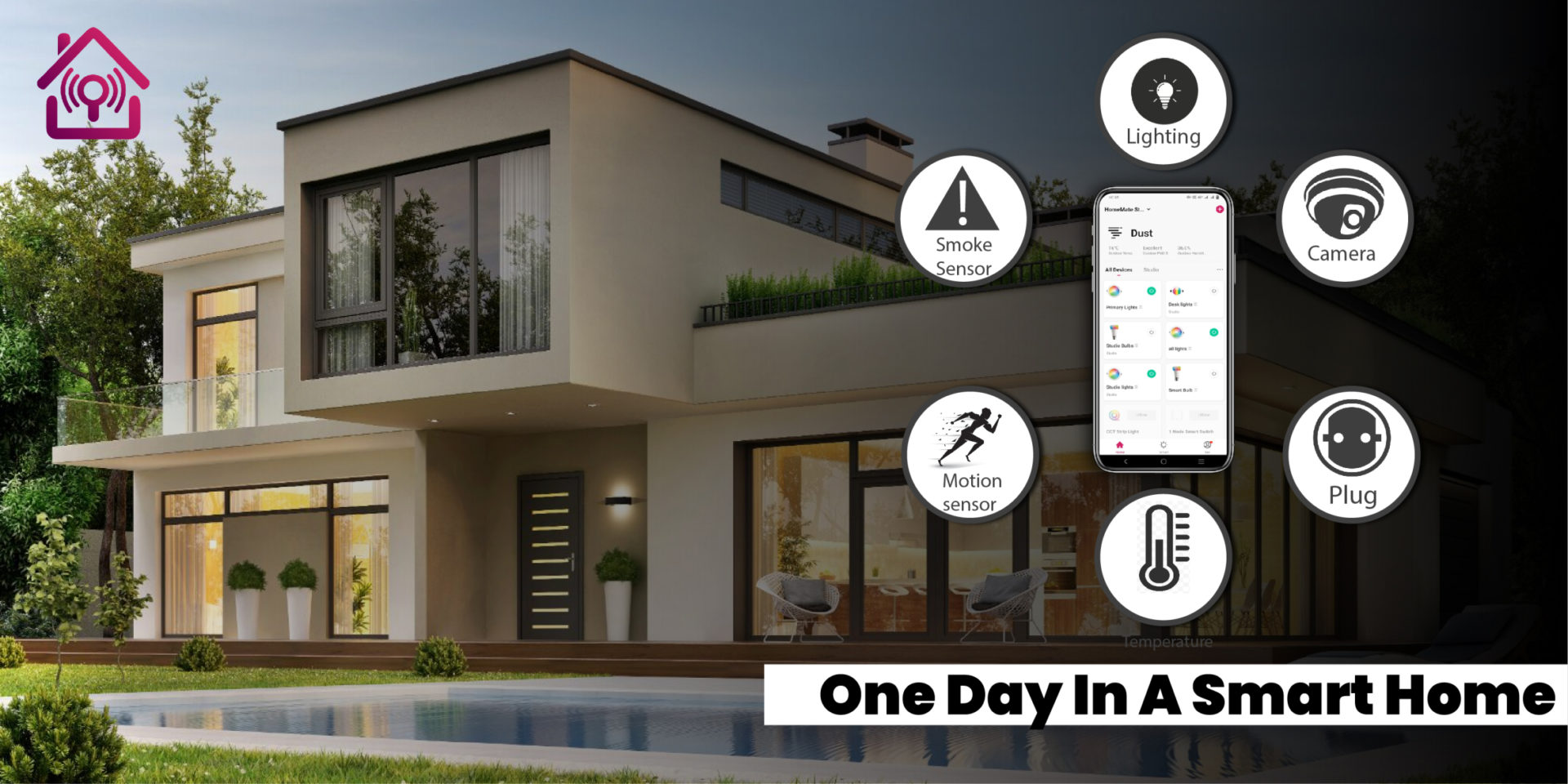 "Home", it's an aesthetic sensation that gives you peace and solace in mind. One Day In A Smart Home is itself an interesting line to hear. Thinking about going home or reaching home always brings a satisfactory smile and relaxation. It is the place where you can unwind yourself. Now just give thought to living in a place where you have full liberty to turn on the lights/open the doors/set up your A.C. temperature; while being in the bed and turning on the products with a single command.
Thanks to smart home technology. The innovative and groundbreaking marvels made things reach another level for convincing and control of the home. Over the past decades, technology has brought a huge change in the society and lifestyle of people. There is not a single thought that smart homes have brought a huge relaxation. 
Household works and other chores, which are linked through modern technology, are so much involved in our lives that our life has taken a complete turn. HomeMate is one of the leading home automation companies in India. It offers a range of smart products using which you can fully automate your home. Moreover, you can link all HomeMate devices to a smart app and operate them with a single touch of a finger. Not just this, HomeMate now offers free installations India-wide. Spending One Day In A Smart Home can make your experience of the things that technology has evolved in our lives.
What Is A Smart Home?
Smart homes are linked via smart devices. The home products are controlled and managed at our own pace with the help of an internet connection i.e. google assistant or Amazon Alexa or Bluetooth connection via voice command. While others get perplexed by the advantage and usage of the technology for the home product. One Day In A Smart Home can bring a huge change in the lifestyle of the common man.
Smart home ideas have gained a lot of popularity in today's era. The Internet of things has made lives secure, easier, comfortable, and efficient to lead the daily routine at a normal pace. Now, we do not have to rush to turn off the products but while being at another place or on the way to the office, you can operate your HomeMate smart devices from your linked gadget or mobile phone and operate accordingly.
Start Your Day In A Smart Home
Waking up early in the morning is always a tedious job. For some people, waking up early is considered healthy but some feel lazy. But if you are a late-night worker then definitely, you will have fewer hours of sleep or poor quality of sleep. That irritating morning will lead to a lot of aggression, anger, and irritation throughout the day. But the smart home can ease your lifestyle. It can help you start working while you are in bed.
The technology has introduced a smart mattress system that helps to track the quality of your sleep and therefore, regulate the temperature while you are in the bed. Moreover, with the usage of cooling fans, heated or cooled water, or usage of heat sinks, the mattress keeps you cozy and comfortable for longer tenure so that you may have a comfortable sleep. One Day In A Smart Home can bring a huge change. 
Pre Scheduled Routine/Programs
If your sleep goes in the right way then it is the best thing that has happened to start your day. Moving to the daily chores, you can pre-schedule the home products like turning off/ on the geyser, A.C., lights, bulbs, and many other products that can be operated via the internet. As you get up, the first thing you do is enter the washroom. You may fix smart lights for homes that have motor sensors. It turns on whenever any living thing approaches it. Or you may also install smart LED Strip lights that help to give a bright look.
When you step towards the kitchen, you can use a kettle that can be set on autopilot mode and till the time you can relax or do some other work that you consider important and can be completed meanwhile.
In case you do not have an automated coffee machine, kettle, or other product then you can also use smart actuators. The actuator helps to make any normal device a smart one. It is attracted above the plug of the appliance and can transform the product into a smart device.
Control Over The Whole House
It seems to be an imaginary world where you can access all the internet-connected products while being far away from your place. Technology in 2023 has brought a huge change in people's lifestyles. With a single tap or voice command you can operate your whole home. Connectivity with the internet or Bluetooth is a must for usage. Connecting your smartphone with home products can make you live your life at your own pace. Moreover, if your home products are not smart then with the use of HomeMate smart actuators i.e. smart plugs, smart extensions, smart switches, and much more, you can convert your normal home products into smart devices. Henceforth, the smart devices can also convert your manual devices into smart ones as well as they can also work on their own. 
Security System In The House
The usage of gadgets for the operation of smart products in your home makes your life easier and more comfortable in all aspects. Fixing HomeMate products in your house can be the best way to lead a satisfactory life. Moreover, smart gadgets for a home have a sensor security system, which can be used indoors or outdoors. Smart cameras can be installed to have a keen view of your home. Moreover, you can also have a doorbell with video and audio modes, which helps to operate the door of the houses on voice command or fingerprint or touch sensor.
Forget the keys to your house at your office or do not remember the security code then a smart lock door is the best way to resolve your issue. You can enter by using your fingerprint or giving a voice command to the door opening and hence you can enjoy a relaxed evening.
During Sunset
At the end of the day, you can turn off the smart home ideas by the HomeMate Smart application or via a grouped switch unit, which helps to soothe your workload at night. Moreover, you can also dim or synchronize the lighting of the house as per your mood if you are using smart lighting. But honestly, smart home automation devices give a wonderful feeling when they are used to provide you with a relaxed and soothing effect.
Conclusion
Spending One Day in a Smart Home can ease your daily chores. It helps to bring a huge relaxation in their lives. Using smart HomeMate appliances can simply put your day-long hard work to a casual pace. When you reach home, you can turn on/off the appliances with your voice command or a single tap. Therefore, you can take advantage of modern techs, and design a lifestyle that helps to bring a soothing atmosphere to you.